Looking for Stock charting software?


See an extensive list of charting software packages, Chart software for Macintosh, and plugin trading systems used by traders for the Technical Analysis and trading of Stocks & Options in the Stock Market, as well as Futures, Commodities and Forex (foreign currency exchange). See the main features of each with links to the vendor.

What is the best Stock Chart Software?


You can find a list of chart software below, with information about each and some user reviews. Also a List of chart software for Macintosh here. Each package is unique, with strengths in some areas - and sometimes weaknesses in others because they specialize in certain types of technical analysis or trading style and not others. Of course, each trader has unique needs and will probably develop a unique trading style as well, so you will need to assess the suitability of any chart software or trading system based on your own requirements. We hope we provide our visitors with enough information to help make that choice. Most chart software can produce charts of all financial instruments as long as you have an appropriate supply of data from a data vendor. We recommend you run the chart software on the fastest computer with the most amount of RAM and fastest internet connection that you can afford. Of course you will also need an account with a Broker to be able to trade whichever instrument you choose.

What is Technical Analysis?


As prices for market products (stocks, futures etc.) change over time, the prices and other information about the product (including the volume traded, total volume of contracts, or the number of short positions versus the number of long positions etc.) can be charted in a graphical form. These charts form repeatable patterns, and provide other information that can be used to form an opinion about the future direction of price movement. Traders use this information to increase their chances of making a profitable trade (and exiting before profits are given back!). The study of this graphical information is called Technical Analysis.
From our Bookstore for Traders.


How can I learn to trade the Stock market?
Stocks always go up, right? Of course these days we know better than that. We need to know how to pick a stock (or other tradeable instrument) out of the vast array of choices. How do we choose what..... AND when? We need lessons and coaching!
First we learn how the markets work, the different styles of trading (hint: there are MANY styles) until we find the one style that suites us. After we have our charting software and supply of market data, we can try some trades "on paper" so we don't risk any real money. Then after we gain enough confidence we can open an account with a broker and start trading with SMALL amounts of money we can afford to lose in case things go wrong before we put any large amounts on the line. Note that some Brokers offer practice accounts where you can place trades, but not risk any real money. Ask if your Broker offers that service.
Finally, remember even the world's great golfers and tennis players continue to have a coach even after they are at the top. Coaching helps! Look here for a list of Trading Trainers and Trading Coaches.

Featured Product: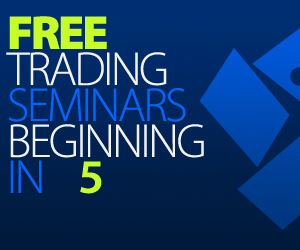 Learn To Trade with INO TV! - For FREE!
Hello and welcome to INO TV. My name is Adam Hewison and we created this exciting new learning platform to share with you proven trading concepts. I strongly believe that by watching and absorbing the ideas presented in these videos, you WILL achieve your financial goals in the future. So choose a video, kick off your shoes, sit back and enjoy.
INO TV is an educational platform offering free trading videos. With INO TV, traders, investors, and market timers alike have access to the highest quality educational trading videos on the market. It doesn't matter if you are a day trader, swing trader, position trader, or long-term investor. INO TV boasts four top trading and investing experts that give you access to:
• Free stock trading videos
• Free commodity trading videos
• Free futures trading videos
• Free index trading videos
• Free forex trading videos
• Free currency trading videos
• Free market analysis videos
• Free stock market update videos and
• Free daily market commentary.
INO TV is a free resource
for every type of trader who may follow gold, silver, crude oil, dow, dollar index, S&P, penny stock, mid-cap stocks and blue chip stocks.
Note from the Webmaster: I personally use this service and I think it is great!
Chart Software:
Notes:
If you are a software developer and you would like your product listed here, or you are a visitor and know a product that SHOULD be listed here, contact us. Listing is free.
If you are a software user please send us a review of your favorite software.
Please note: We do not necessarily endorse ANY contacts listed here. They are listed for your information only. You should investigate them fully before sending any money.
Software listing is in alphabetical order.
AIQ Trading Expert Pro - AIQ's proven market timing, group/sector analysis, and stock screening capabilities offer a combined power for investors not found in any other package. aiqsystems.com
AIR Software brings you four versions of the exceptional Market Trader software for precision and accuracy in Astro Financial trading of all markets. The series includes the Bronze, Sterling Silver, 24 K Gold, and Titanium. One of the primary functions of this entire series is designed to remove financial astrology from mystic lore and into the hard core, scientific approach of trading. www.Alphee.com
Aspen Graphics - Whether you trade equities, options, bonds, fixed-income or mutual funds, Aspen Graphics Technical Analysis Software has the flexibility to satisfy the trading and analysis needs of every market professional. aspenres.com
Dynamic Trader - The premier trading software for time, price, pattern and momentum trade strategies, as well as ongoing trading education. New Version 6 released December 2009. An extraordinary version update to an already extraordinary trading software and educational package. DT6 includes Real Time Dual Time Frame Momentum Reversal Alerts as taught by Robert Miner in HIGH PROBABILITY TRADING STRATEGIES, plus a whole lot more upgraded features. The DT Software and Trading Course Package is a complete and unique trading software and educational package. www.dynamictraders.com
Elwave - Elliott wave software. The only software that tells you what to do BEFORE it happens. Automatic Elliott Wave analysis. Powerful scanning for bullish and bearish stocks. www.elwave.com
** WE WANT YOUR CHART SOFTWARE REVIEW **
Ensign - has been producing charting software since 1981. Very flexible and has great support. www.ensignsoftware.net
eSignal - A leading provider of affordable, reliable, real-time financial market information and professional-level tools, delivered to PCs, laptops, PDAs and smart phones. www.eSignal.com See the eSignal Review.
Fibonacci Trader - The First Multiple Time Frame Software for Traders in the World. www.fibonaccitrader.com
Incredible Charts Free online charting software. Free online data. More than 50 indicators, Powerful stock screens. incrediblecharts.com
iq|Chart - The newest version is more powerful and easier-to-use than ever, with significant improvements such as new indicators, a more powerful stock screener and enhanced charting. 30 Day Free trial. Afterward, IQ CHART is only $39.95 per month, a signifigant savings over other charting products. See why thousands of investors use this software. www.iqchart.com
Market Analyst - Market Analyst - Gann Analyst edition is the world's premium Gann charting program, used and recommended by a majority of the world's leading authorities on the subject of Gann. Market Analyst 5's Gann modules eliminates the huge time factor that used to be involved in Gann analysis, providing you with the right tools to get you to your destination. Market-Analyst.com
Market Browser - Our users say it best. MarketBrowser is simply the right way to monitor and research your investments and it's absolutely FREE! MarketBrowser.com
Market Warrior - Cycle forecasts, square of nine, planet lines and aspects, super pitchfork and more. MikulaForecasting.com
MetaStock 12 is Here! Superior charting, powerful scanning, endless customization, and revolutionary back-testing and optimization make MetaStock Pro 12 powered by Thomson Reuters MetaStock XENITH the best choice for the self directed trader. You have nothing to lose, get a FREE TRIAL NOW. Equis.com/FreeTrial
Meta Trader is an online trading platform designed for financial institutions dealing with Forex, CFD, and Futures markets. Individual traders should look at the MetaTrader 4 Client Terminal. Meta Trader also has a mobile terminal. MetaQuotes.net
mGlider (Market Glider) is an all-in-one charting and analysis package for traders and investors of all skills and styles. Usability and power are two major attributes of mGlider and combined with a comprehensive set of numerous market tools they deliver a perfect product to increase your trading profits and make your market analysis experience seamless and straightforward. www.mglider.com
MotiveWave - Several versions available to suit your style and budget including modules for Gann, Elliott Wave, Gartley and Fibonacci. Broker integration and several data sources. www.motivewave.com
MultiCharts (and its FOREX sister program MCFX) has many features, including high-definition charting, true back-testing, EasyLanguage compatibility, choice of data feeds, and integrated auto-trading. www.multicharts.com
MurreyMath - The software will assess 100 stocks in 30 seconds and set up their Trading Frame with only one click of the mouse. Every Trader has been taught to Buy Low and to Sell High but they were never told where either end was. Our software does all the mental thinking for you. MurreyMath.com
NeuroShell Trader - Choose from traditional analysis techniques and state-of-the-art artificial intelligence technology (fast neural network software for predictions and efficient genetic algorithm software for optimizing trading rules and indicators). Add-ons include fuzzy logic and cluster indicators for pattern recognition. Use NeuroShell Trader to build your model, then backtest your trading system prior to entering the market. neuroshell.com
Ninja Trader is a leading developer of high-performance trading software for the active trader. It is a complete end to end trading platform. The NinjaTrader platform is free to use for advanced charting, analytics, system development and trade simulation. The industry's most flexible end to end real time strategy development and automation platform. ninjatrader.com
OmniTrader is the only stock trading software designed to help you make money no matter what the market is doing. By automating Technical Analysis, OmniTrader gives you the power to make decisions fast! using a technique called the Adaptive Reasoning Model. www.nirvanasystems.com
Prophet.net subscriptions deliver the analytical power of professional-level software programs, the immediacy of live, streaming data and the convenience of any-browser, anywhere access. www.prophet.net
RealTick - offers flexibility - both in its user interface and the variety of Add-Ons that you can choose for your subscription. Customize your trading platform according to your strategies, and get an expansive view of the market. Detailed. Personalized. Immediate. RealTick.com
Sierra Chart is a leading, high quality Real-time and Historical Charting, Technical Analysis and Trading software program for the financial markets. It is used by thousands of traders and investors throughout the world. Sierra Chart has a very large set of indicators and tools, and an advanced trading interface. www.sierrachart.com
TekView Explorer is an end-of-day charting and analysis tool with a focus on helping investors build, test and gain confidence in their trading strategies. www.scribnersoftware.com/Default.asp
TC2000 Much easier to use, faster, simpler. Improved scaling. Better use of screen real estate. Crisp chart printing. Notes & News window streams online stories in real time. Quick note taking with attached charts to remember your research. Streamlined navigation for moving and tabbing windows, organizing workspaces. Short-cuts for flagging symbols, copying to favorites and personal watchlists. It's ready. www.worden.com
thinkDesktop is a state-of-the-art system for monitoring, analyzing and trading equities and option derivatives - efficient, feature-packed and powerful. Fire breathing analytics, streaming quotes, industry-leading charting tools. thinkorswim's flagship trading platform sets the bar for the industry. thinkorswim rated highest software-based online broker and "best for options traders" in Barron's ranking of online brokers, 3/6/2006 and 3/5/2007. www.thinkorswim.com

Track'nTrade is a 5-Time recipient of Stocks & Commodities Reader's Choice Award. This amazing charting and trade simulation software package gives you the ability to analyze commodity markets technically with technical analysis tools, unique market calculators, and customizable indicators. Packages available for Stocks, Futures and Forex as well as various Plugins and Education. 30 Day free trial available. www.TracknTrade.com
Trade Navigator is a program based on experience, trader input and an inexhaustible enthusiasm for success! In our 20 plus years of providing data and analysis software, we have acquired a tremendous following of well-known traders who have found Trade Navigator to be The answer to their charting needs. www.GenesisFT.com
TradeStation breaks through the limits of traditional trading platforms, offering you advanced, unique features that can actually change the way you trade through the power of strategy trading. Packed with a host of unique analysis and strategy-testing features to test virtually limitless buy and sell rules. www.tradestation.com
See the TradeStation Review
VisualTrader - See the big moves ahead of other traders. VisualTrader gives you a stunningly profitable view of the market. Make money by being in the right stocks at the right time. www.nirvanasystems.com
Wave59 RT contains extremely powerful techniques that can give you a real edge when trading the financial markets. From genetic algorithms to composite cycle prediction techniques, this trading software contains some of the most advanced algorithms ever applied to market timing. Wave59.com
For Chart Systems and Plugin Software, click here.
Didn't find what you were looking for? Search for Trading information here....